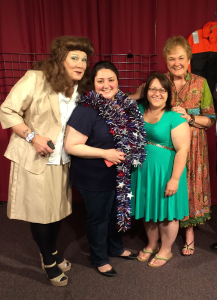 Join Jane Street, Martha Richardson, Sheila Harrington, and Nicole Weaver for That's What She Said! It's fun, frolic, laughs, chat, special guests, field trips, and adult beverages. It's a fast-paced romp through the minds of four clever, intelligent, and funny women who speak their minds on anything and everything. Who'd miss that?
We're on the 4th Monday of every month at 9:00pm on BCTV!
That's Berks Community Television, a local public access cable channel located at Comcast Reading Channel 15, Comcast-Southern Berks Channel 965, and Service Electric Channel 19.
The show is also streamed live at BCTV.org every 4th Monday at 9pm!
The shows are also archived on YouTube. We've been on the air since January 31, 2012, so there's a lot to get caught up on!
Want more info about a guest, organization, or company who came on the show? We have that list right here.
We're also on Twitter — @SheTweetsToMe. You can tweet to us live during the programs! Or you can call us on the phone: 610.378.0426 to be live on the air with us!
Check us out on Facebook as well!
You can also send us an email!
Redundantly enough, we are also on Tumblr!